Lang Pioneer Village Museum hosts the launch of a song book, double CD and exhibition under the title 'Cross Cut' on Friday, May 13, 2022 from 6:00 to 9:00 p.m. in the Peterborough County Agricultural Heritage Building at 146 Lang Road, Keene. During the opening reception artist Rob Niezen will introduce the Cross Cut project and exhibition, Dr. Allan Kirby will give some background on traditional music in rural Ontario, and Backwoodsmen will perform some songs.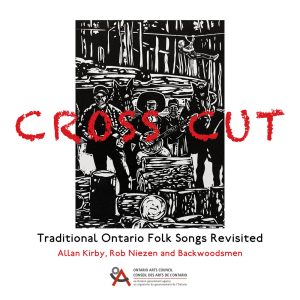 The exhibition runs from May 24 until June 4, 2022. The museum also offers exhibition pre-viewing with artist Rob Niezen present on Saturday April 30 from 12:00 to 4:00 p.m. As part of the exhibit, Lang Pioneer Village Museum will be hosting "Artist on Site" days with Rob Niezen from 12 noon to 3:30 pm on April 30, May 28 and June 4. Rob will be at Lang Pioneer Village Museum to discuss the Cross Cut exhibit and display his linocuts.
CBC's Edith Fowke collected folk songs in rural Ontario during the 1950s—many in Peterborough County. Traditional music came to Ontario with European settlers. Lyrics and tunes were adapted to local experiences and the personal preferences of the players, and these offer a reflection of society at different moments in history. The underlying themes are of a timeless nature, as they deal with human existence: love, deception, politics, war, immigration, work, leisure, murder, death, etc. Musician and music historian Dr. Allan Kirby, visual artist Rob Niezen and traditional music group Backwoodsmen selected and revisited just shy of two dozen folk songs from rural Ontario. They created contemporary arrangements and adapted lyrics, resulting in a double CD and an illustrated songbook. The song book presents the songs with lyrics and chord progressions, an introduction by historian and musician Dr. Allan Kirby, and Rob Niezen's linocuts.
Rob Niezen created a series of linocuts reflecting on the narrative of the songs with a contemporary perspective by applying the concept of 'crosscutting'. Crosscutting is a technique borrowed from film editing used to illustrate a narrative action that happens in several places at the same time, or in one place at different times. In creating his artwork Rob Niezen uses both the traditional method of lino carving, and contemporary and experimental ways of mark making, including laser engraving, etching and collage; going against the grain, or 'cross cutting, as it were.
Rob Niezen gratefully acknowledges the Ontario Art Council for its support of the exhibition.