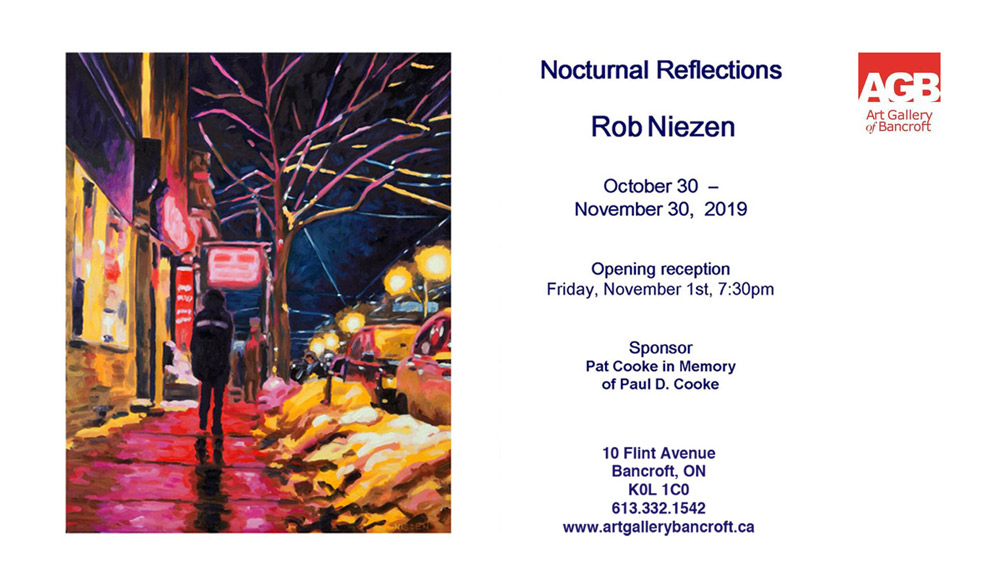 This fall is turning out to a busy and exciting time, with a solo exhibition at the Art Gallery of Bancroft titled Nocturnal Reflections, opening November 1st, and participation in a number of other shows.
Also opening November 1 is Squared, a 50/50 fundraiser for the Art School of Peterborough. Six of my Celebration pieces, ranging from 6×6" to 24×24" are on the walls looking for new homes and supporting the art education programmes for this not for profit organization.
November 7 will see the opening of PRINT 2019 at the John B. Aird Gallery in Toronto, for which one of my Heads & Tales linocut-mixed media prints was accepted. This is a promising exhibition for fans of printmaking.
Five of my oil paintings are part of A Holiday Art Market at the Colborne Street Gallery in Fenelon Falls. This show runs from Thursday, November 7, 2019 until Sunday, January 5, 2020, with a reception on Thursday, November 21.
On November 23 and 24 I'll be participating in the Jamaican Self-Help Artisan Show and Sale in Peterbrough with linocuts and my Heads & Tales works, as well as doing demonstrations. Funds raised during this show will support education and community development programmes in Jamaica, and in the inner-city of Kingston in particular.
And lastly, my most recent Nocturnes can be found at Studio22 Open Gallery in Kingston and at Meta4 in Peterborough.