Cross Cut is a multi media project featuring traditional songs from Ontario (1820-1920) that includes an exhibition of  24 linocuts,  a songbook with  the linocut illustrations, a music CD, and musical performances.
CBC's Edith Fowke collected folk songs in rural Ontario during the 1950s and '60's—many in Peterborough County. Traditional music came to Ontario with European settlers. Lyrics and tunes were adapted to local experiences and the personal preferences of the players, and offer a reflection of society at different moments in history. The underlying themes are of a timeless nature, as they deal with human existence: love, deception, politics, war, immigration, work, leisure, murder, death, etc. The series of linocuts invites to reflect on the lives of Canadians from the past and today; superficially things have changed, but the human conditions for people now are not that different from 150 years ago. The linocuts use both the traditional method of carving the material, and contemporary and experimental ways of mark making, including laser engraving, etching and collage.
The Cross Cut song book includes the song lyrics, their history and basic chord progressions. Historian and musician Dr. Allan Kirby and Rob Niezen are co-producers of the book. A first exhibition was at Lang Pioneer Village Museum in the spring of 2022 with support from the  Ontario Arts Council. Traditional music group Backwoodsmen created contemporary arrangements for the songs, and released a double CD, which is available for download on Bandcamp. More exhibition are planned for 2023 and 2024, including  at Agnes Jamieson Gallery, Minden (May-June 2023), Kawartha Art Gallery, Lindsay (July 2023), Temiskaming Art Gallery, Haileybury (November – December 2023), Museum of Lennox and Addington, Napanee (February – May 2024) and Art Gallery of Bancroft, Bancroft (September 2024).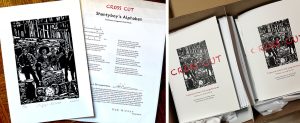 The Cross Cut linocuts are handprinted on an etching press in two editions: a small edition of exhibition grade prints on on 300 gsm Legion Madison Print paper with archival ink (Speedball Professional Super Graphic Black) on an etching press, and editions of 30 that are for sale to the public on Mohawk Superfine 270 gsm Eggshell paper. Of the latter series each numbered print measures 7 x 5″ (17.5 x 12.5 cm) on a 10 x 7″ (25 x 17.5cm) sheet. The prints are packaged in an acid free sleeve with a cardboard backing, and come with a copy of the song lyrics and chord progression. CAN $40 + shipping.
The prints listed below can be ordered by sending Rob an email at